Posted on: 18th June 2019
IBA VOR ORT FILMNIGHTS

by IBA VOR ORT | movies in wonderland
In 2019, movies in wonderland and IBA_Wien are collecting, sharing and telling home stories. Through films & discussions, we will discuss the history and potential future of housing.
On six film evenings between June and December 2019, "Wohngeschichten" give a broad audience the opportunity to get to know the residential quarters of the IBA_Wien and to discuss topics ranging from the famous Gemeindebau in Red Vienna to the future of ecologically and socially sustainable housing.
Program 2019:
18.06.2019 | 19:00 
VHS Favoriten , 1100 Vienna
Special guest: Zara Pfeifer, artist & director of "Du, meine konkrete Utopie."
Du, meine konkrete Utopie, A 2016, 10 min., OV with engl. subtitles, D: Zara Pfeifer
Du, meine konkrete Utopie showcases Pfeifer's visual and sociological discoveries in an expansive series of photographs. Kimberly Bradley
Der Traum vom Baumhaus/Dreaming of a Treehouse, GER 2011, 65 min, OV with engl. subtitles, D: Beate Lendt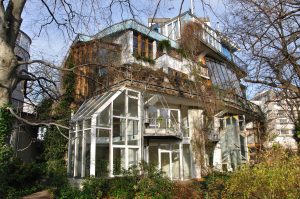 The documentary "Dreaming of a Treehouse" addresses the Ökohaus, an experimental collective housing project in Berlin, conceived by the famous German architect/engineer Frei Otto for the International Building Exhibition (IBA) of 1984-1987 held in Berlin.
06.09.2019 | 20:00 
FABRIK | Seestadt Aspern , 1220 Vienna
Göttliche Lage. Eine Stadt erfindet sich neu. D: Ulrike Franke & Michael Loeken, DE 2014, 104min., dOmeU
Dortmund is a city in the Ruhr region, one of Europe's largest industrial centres. Until April 2001, this was one of the most important locations for heavy industry in the world.On the enormous site of the former Phönix-Ost steelworks, which has lain dormant since the plant was closed in 2001, and in the middle of a working-class district, a luxury housing development has now been built up around a newly created, artificial lake: Lake Phoenix.
19.09.2019 | 20:00
Neu Leopoldau, 1210 Vienna
Vom Bauen der Zukunft – 100 Jahre Bauhaus. D: Niels Bolbrinker, Thomas Tielsch, DE 2018, 90min, dOF
VOM BAUEN DER ZUKUNFT – 100 JAHRE BAUHAUS transforms us into enthusiastic flâneurs meandering in amazement between the interior spaces of the modern age who will henceforth view every and any attempt at creative design with completely new eyes. (Goethe Institut)
07.11.2019 | 18:00
Bildungscampus Berresgasse , 1220 Vienna
The Infinite Happiness. D: Ila Beka & Louise Lemoine, F 2015, 85min., OmeU
Inhabiting for about a month the "8 House", by Bjarke Ingels Group, Ila Bêka and Louise Lemoine recount in a diary style their subjective experience of living inside this experiment of "vertical village".
28.11.2019 | 18:00 
Waschhalle George-Washington-Hof , 1100 Vienna
Natura Urbana – Die Brachen von Berlin (DE 2017), D: Matthew Gandy, DE 2017, 72min., OmdU
The film tells the post-war history of Berlin through its plants. Encountering an extraordinary variety of spontaneous vegetation from all over the world that has sprouted along railway lines, street corners, and in the distinctive Brachen of Berlin.
09.12.2019 | 18:30 
Per-Albin Hansson Siedlung , 1100 Vienna
Film night "Per-Albin-Hansson-Siedlung then and now"
Archival footage from Filmmuseum Austria
contact: [email protected]
Partner: IBA_Wien
Supported by: Bundeskanzleramt Österreich, and by Kammer der ZiviltechnikerInnen | ArchitektInnen und IngenieurInnen Wien.Niederösterreich.Burgenland