Posted on: 13th January 2021
In October 2020 we started a call for Waste entrepreneurs. The call was for young people to participate in a training that will help to equip them with tools to come up with solutions that create significant economic, environmental, and social impact in their cities. The programme is led by ''Environmental and Territorial Management Institute'' in collaboration with partners Lets do it Peja (Kosovo), MineVaganti NGO (Italy), Wonderland (Austria), New Horizon (Montenegro) and Racio (North Macedonia) with the support of Erasmus+.
In Our participants completed the first training week of the Circular Economy into Art through Eco-Design Programme. The first training "The Circular City we want" took place online and the activity programme focused on providing participants with knowledge, methodologies and Non-Formal Education tools to locally spread skills and attitudes necessary to eco- design/crafting methods mainly for bulky and electronic waste. The participants got information on the life cycle of products and which are the best methods for re-using and how to deal with them.
CEED aims at promoting/supporting the development of circular economy principles and capacities. The programme emerges from both its potential as a driver of youth employability and recycling in connection with the socially oriented dimension.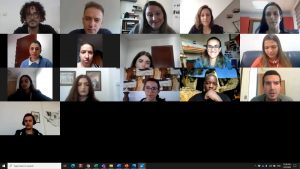 The first training took place from 9th until 14th November 2020 and 20 participants from Italy, Austria, Albania, North Macedonia, Montenegro and Kosovo shared their ideas and knowledge with each other.
The participants were educated on the challenges cities are facing today as urban sprawl, increase of population, climate change and what is the path and best practices moving towards a circular city. Core elements of the circular city were shared and discussed were such as sharing, recycling, refurbishing, replacing and digitalizing.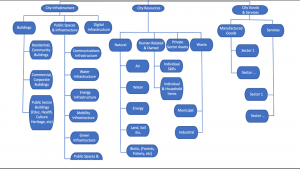 Throughout the week the aim was to contribute to the development of 'Circular City Action Plan for a city or country they chose. And the second training Turn Waste into Profit will take place in April this year.
Our participants
Adelajda is a Ph.D. Student at the University of Marcerata in Italy. She is doing her Ph.D. in Quantitative Methods for Economic Policy.
Christelle L. Rocofort de Vinniere
Christelle recently received her master's degree from the Lund University in Sweden, the Central European University in Hungary and the University of the Aegean in Greece. She studied Environmental Sciences, Policy and Management through an erasmus mundus master's programme.
Prosper is a Master's Degree student at the Central European University. He is doing his Master's in Cultural Heritage Studies: Academic Research and Policy.
Endrina is a master's degree student at the University of Camerino. She is studying Architecture at the School of Architecture and Design "E. Vittoria".
Read more about the programme:
CEED – Circular Economy into Art through Eco-Design