Posted on: 17th May 2023
From a temple is building from plastic bricks to circular restoration actions in heritage sector Aysel, Daniela, Mariia and Batuhan each are bringing their unique experiences to the YE-CE project. 
We are thrilled to introduce the participants who have been selected for the YE-2C: Youth Empowerment for Circular Cities international training. We talked their motivations and aspirations for participating in this transformative training.
Aysel Aycan Aktaş, a sociology graduate and current master's student in social and cultural anthropology at the University of Vienna, joins the program with a strong interest in migration, memory, and human rights. Aysel is already making a meaningful impact by contributing to a project in Indonesia, where non-recyclable waste is ingeniously transformed into durable plastic bricks for constructing a temple.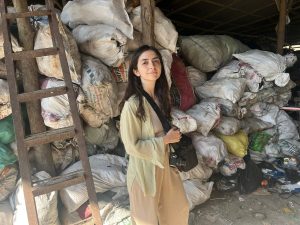 During her bachelor's years, Aysel discovered the Erasmus+ programs, which sparked her interest in personal and professional growth. She is particularly enthusiastic about expanding her knowledge and skills in waste management and the circular economy. Aysel sees the Y2-CE international training as a valuable opportunity to gain insights and expertise, enabling her to develop equitable and innovative solutions that address the consequences of capitalism, consumption, and linear economy. Emphasizing the importance of breaking free from social bubbles, she believes that participating in Erasmus+ projects fosters a diverse environment for exchange and learning, effectively addressing the issue of limited perspectives.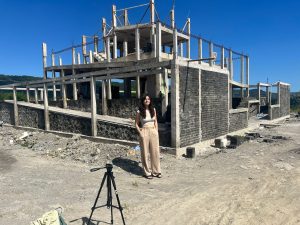 Architect Daniela Baçe is currently specializing in heritage studies and seeking circular actions, sustainable and inclusive solutions in architectural restoration. She emphasizes the importance of international knowledge-sharing and believes that the Erasmus+ training program can facilitate valuable discussions by connecting professionals from different fields. Daniela is eager to collaborate with professionals from diverse countries and cultures, recognizing the potential for mutually beneficial outcomes. She believes that the training's networking focus offers an ideal platform for diverse cultures to unite and contribute to finding solutions.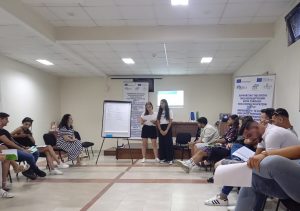 Mariia Smirnova is a master student of environmental sciences and an urban planner who values opportunities for continuous learning and exploring different methodologies. She believes that incorporating circular economy perspectives is crucial for finding optimal solutions in the field of urban planning. She expects that Y2-CE international training will enhance her awareness and deepen her understanding of the circular economy.
Additionally Mariia's enthusiasm for experiencing different countries and cultures aligns perfectly with the program's mission of providing a unique cultural immersion experience. She appreciates the program's support and networking opportunities, which make her exploration aspirations more attainable. Mariia emphasized the importance of obtaining a recognized certification or qualification upon completing the training program. Such credentials serve as strong evidence of knowledge and add value to her professional profile.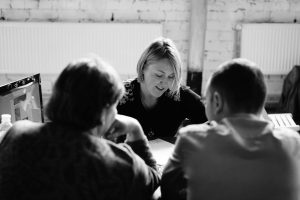 Batuhan Akkaya is an urbanist with a planing, design and heritage background. In the past years, he has been working for a variety of projects in urban and regional scale, including EU founded projects, social impact assessment reports for urban projects, strategic plans for local administrations, revitalization projects for heritage districts and urban design guidelines and public social infrastructures to enhance quality of life.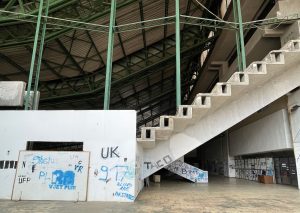 He stated that although concepts of circular economy are growing, circular economy design processes in the urban cultural sector are as of yet neither advanced nor well-articulated, despite the fact that circular economy models could be applied very well. He wants not only to learn but activate bottom up circular economy business models in cities to influence policy and decision makers.
Aysel, Daniela, Mariia and Batuhan these four highly motivated individuals from different professional backgrounds committed to innovative circular economy solutions in fields like urban anthropology, architectural design, sustainable urban development and management. We can't wait to see the incredible transformations they'll achieve on their journey, and we're rooting for their success every step of the way!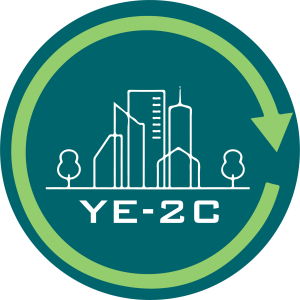 Participate in Circular Actions with Wonderland 
The YE-2C project takes a collaborative approach to empower young people in driving circularity in cities, through actions such as research, training, a toolkit, international and local workshops, and an e-learning platform.  The project aims to engage and empower young people in taking action towards circular economy.
Stay tuned for the events and get in touch with us if you want to get affiliated in the YE-2C project.