Posted on: 6th July 2023
Community sports and the circular economy are two powerful tools that can come together for sustainable life in streets. When these two concepts intersect, remarkable things can happen. This is what Wonderland and Xsentrikarts experimented with pop-up installations and events in Mei Meidling Klima Grätzl Fest.
What was it about?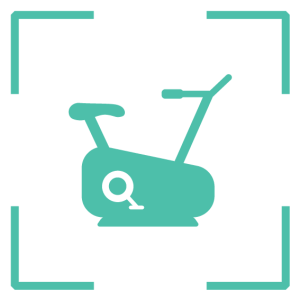 Community sports and the circular economy are two influential tools that canbe used effectively to promote sustainable lifestyles. Community sports play a vital role in bringing individuals together, fostering a sense of inclusivity, and enhancing physical and mental well-being. Conversely, the circular economy is a concept that aims to minimize waste generation and optimize resource utilization by facilitating their continuous circulation.
We believed that the intersection of these two concepts could benefit the support of sustainable streets, such as activating vacant spaces in a more pedestrian-friendly manner, promoting participation for the future of our neighborhoods, and supporting physically active communities. Actually, these were the benefits that we got from our two parallel events in 2023 Mei Meidling Klima-Grätzl-Fest.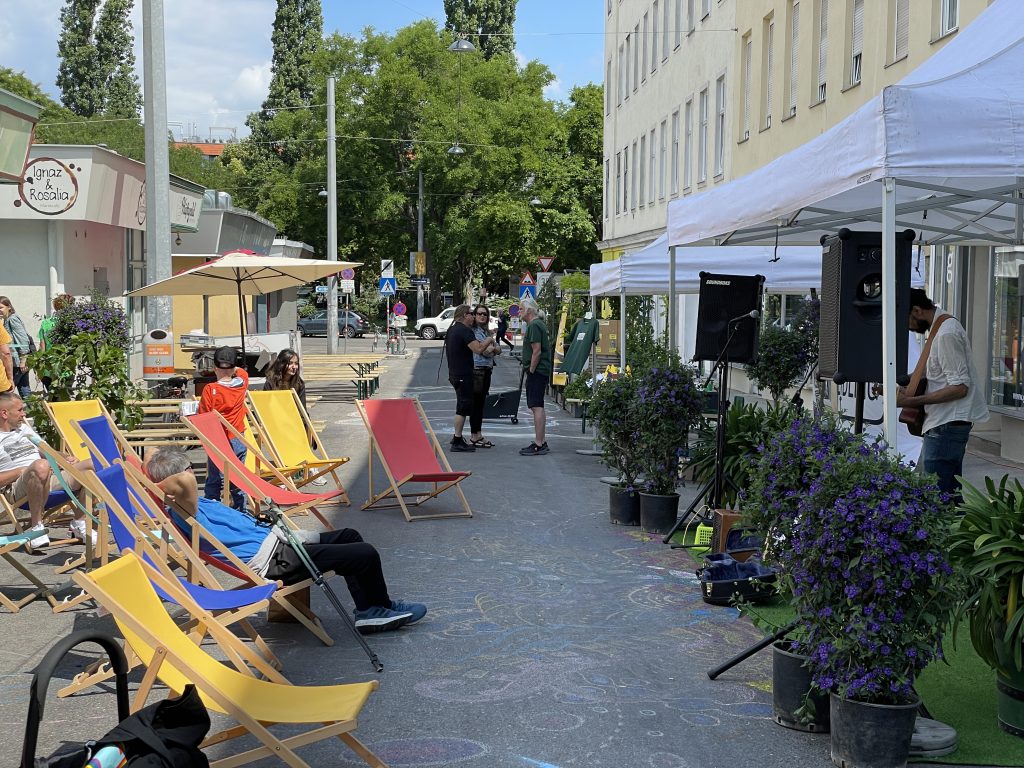 Our first event is community sports event which was also the kick off local action of Curricular Innovation for CISCA (Synergy between Community Sport and Activism) Project. Our second event was about promoting awareness about circular economy practices in Meidling youth as a part of YE2C (Youth Empowerment for Circular Cities) Project.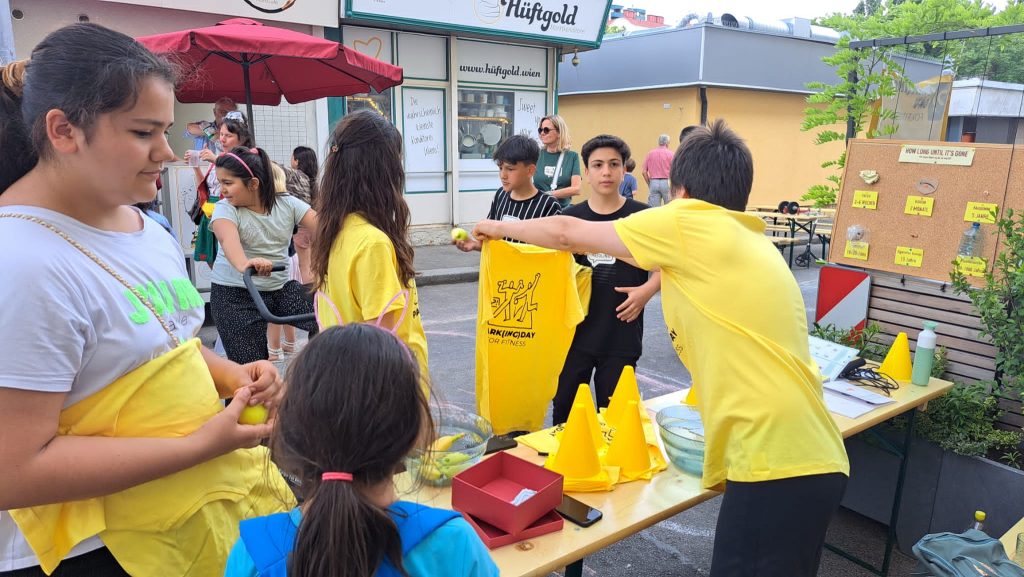 How we organized low carbon event? 
We prioritized organizing a low-carbon event. Instead of using cars for larger deliveries, we opted for The Grätzlrad Cargo bikes, which are available for free use by the Viennese community. These cargo bikes, owned by various cultural institutions, restaurants, shops, and companies, were made accessible through the City of Vienna's cargo bike funding scheme.
To reduce paper waste, we minimized the printing of physical brochures and instead designed digital versions. These visually appealing digital brochures showcased the distinctions between linear economy, recycle economy, and circular economy. We presented these brochures using tablets and smartphones for an eco-friendly display. Additionally, we created a handcrafted poster to raise awareness about waste life cycles.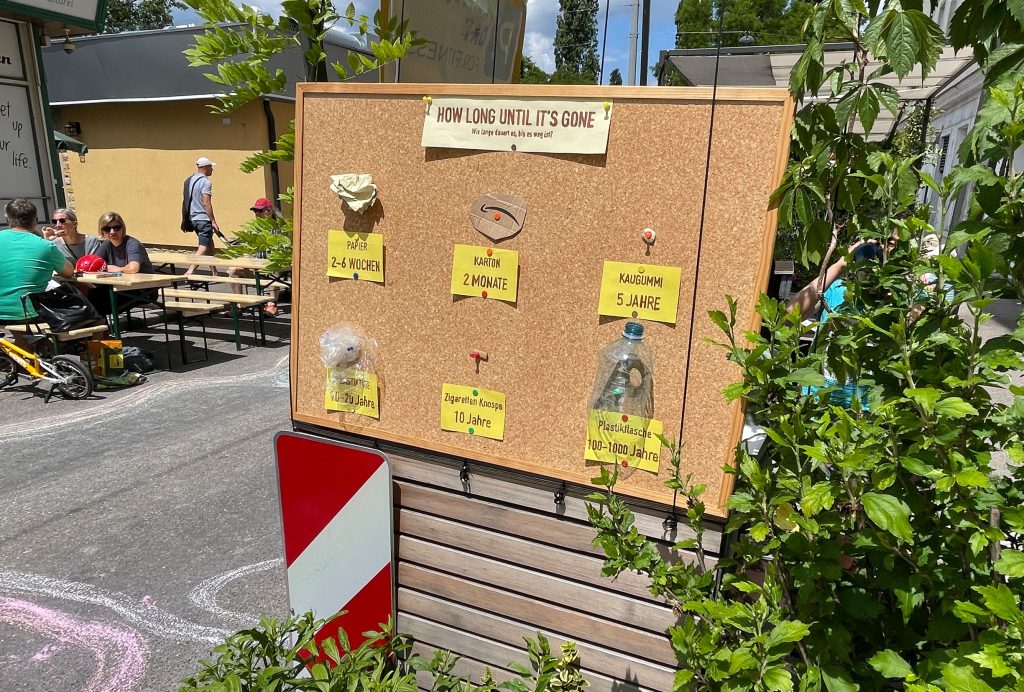 We utilized reused and second-hand equipment, as well as borrowed items from nearby shops. We transformed the park-let into event space. The sports equipment was sourced second hand through a popular app widely used by Austrians seeking second-hand options. Furthermore, we served treats using multi-use cups and plates, minimizing single-use waste.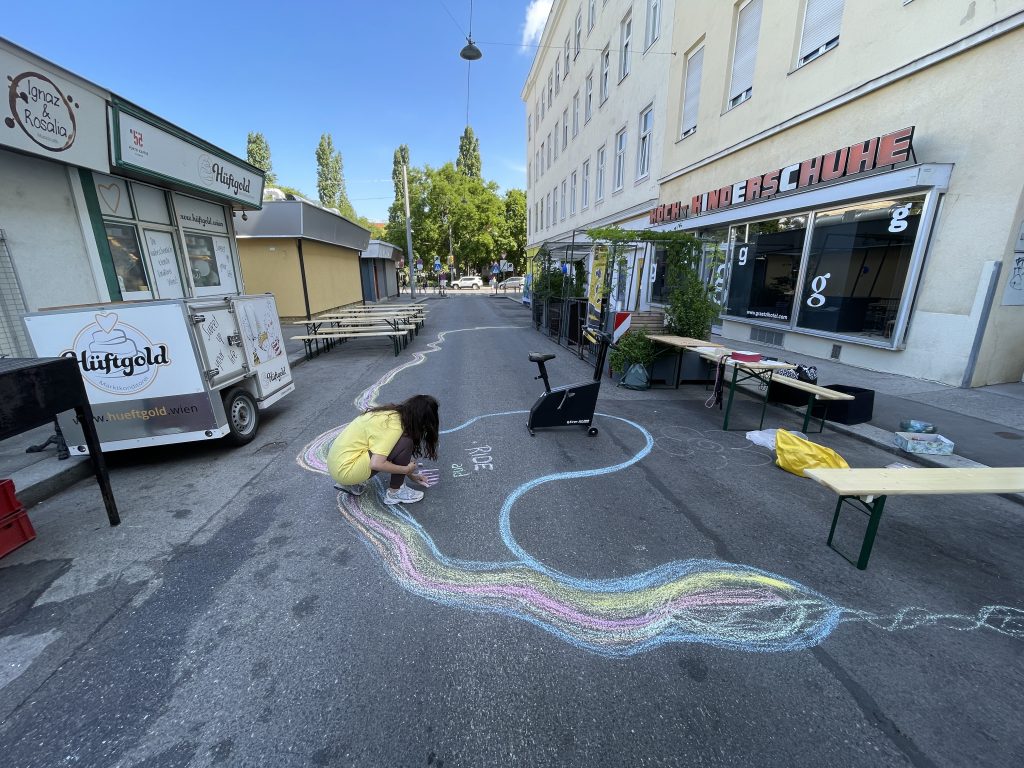 How were the events? 
Local organizations and Individuals such as workers from the Meidling market, families and young people living near the festival site, actively participated in our event. To engage the community, we organized two street fitness events and provided consultancy sessions to 10 neighbors with a professional sports trainer. We created a buzz by installing a bike trainer in the street, which attracted attention to our pop-up stands. During the event, we took the opportunity to give information 14 children about the fundamentals of circularity, offering them valuable insights.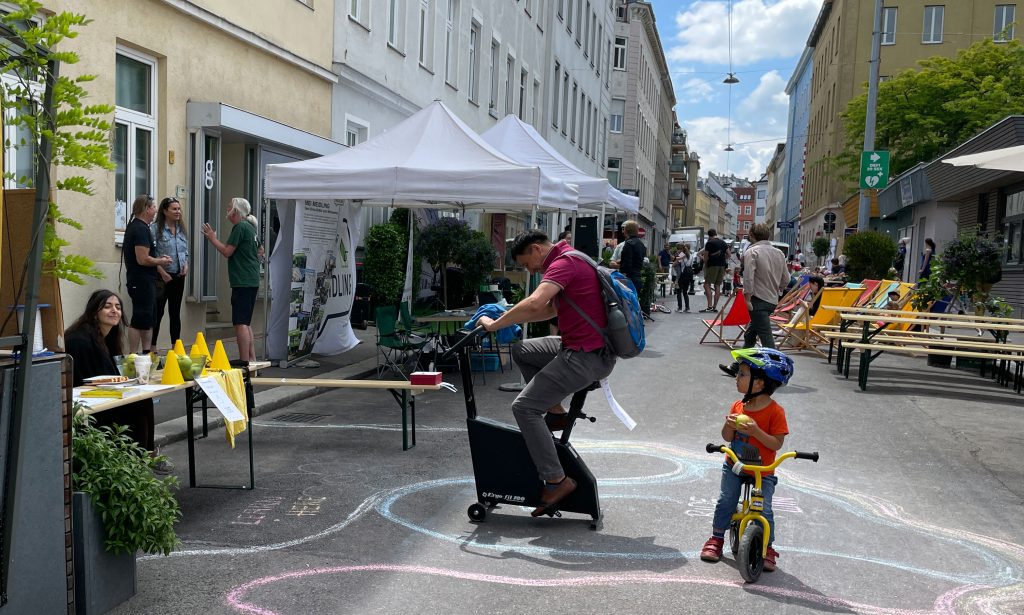 To further promote the use of the fitness area, we organized friendly competitions and rewarded participants who rode their bikes or took part in the fitness events with treats. As the grand prize, we obtained a secondhand home bike trainer, which we used during the event. At the end, we gifted this bike trainer to a lucky young neighbor along with a rattle.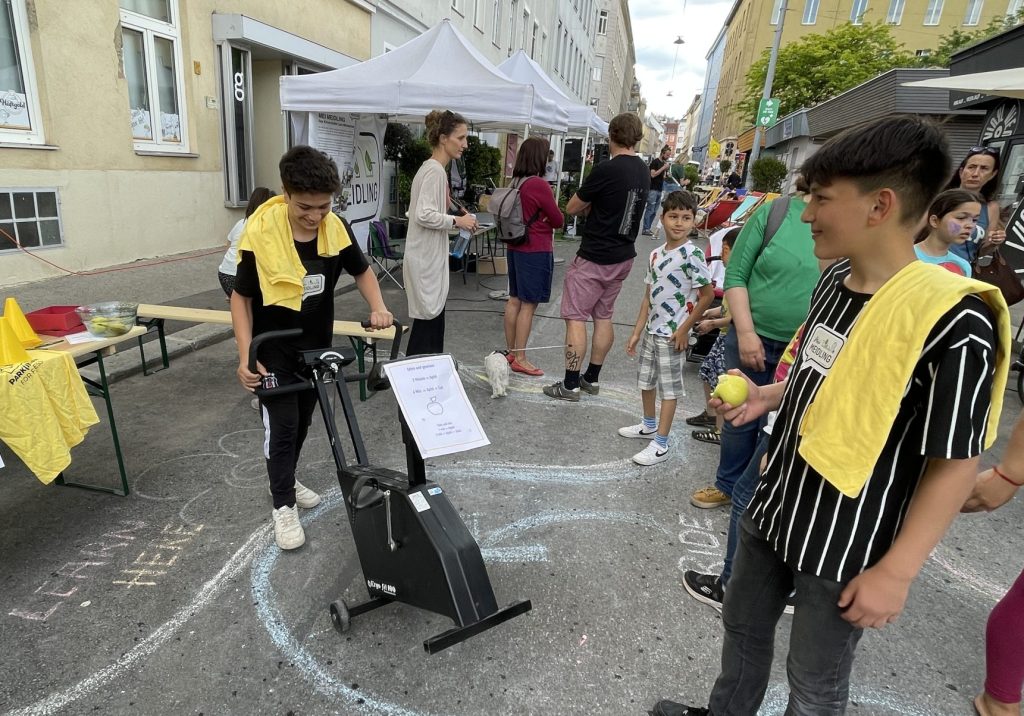 Simultaneously, there were various other events taking place, including concerts, discussions about proposals for a greener Meidling, street chess, and more. These additional activities added vibrancy to the festival and provided diverse opportunities for community engagement.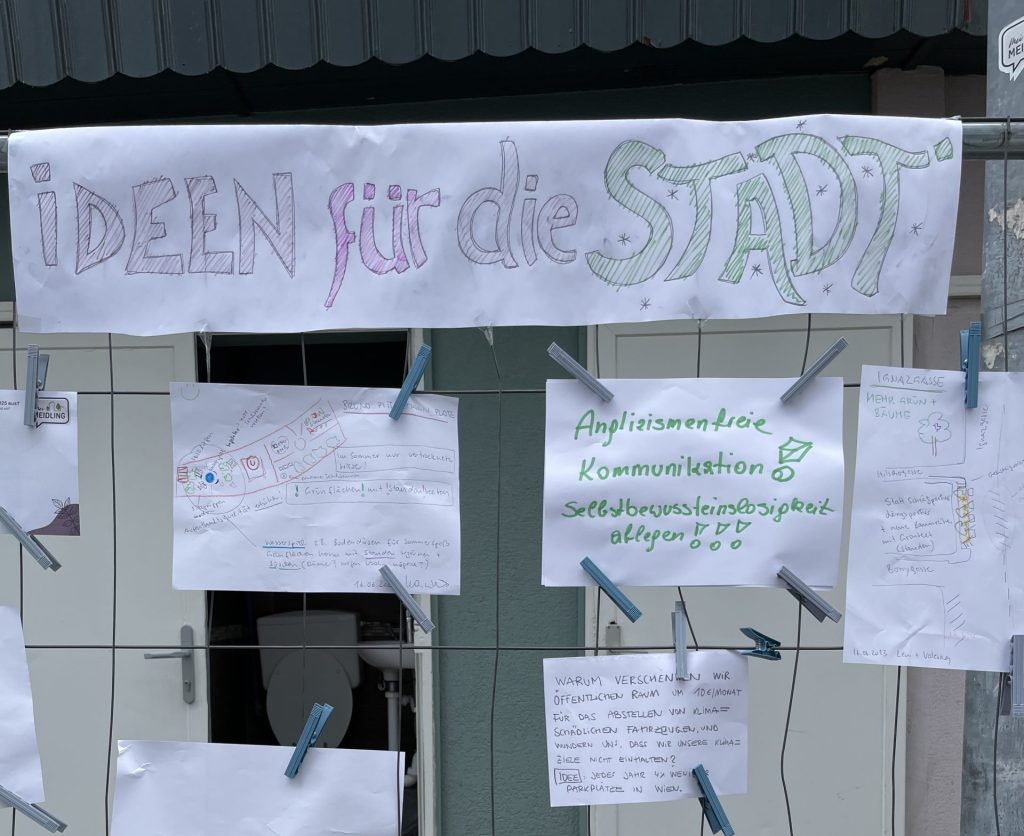 What we learned?
The local sports actions can act as catalysts to promote circular economy: Sports events we adopted sustainable practices such as recycling, and reducing single-use plastics. We engaged participants and spectators in environmentally friendly behaviors, community sports helped us to raise awareness about the importance of resource conservation.

The circular economy practices can be used in local sports actions: Community sports can contribute to the circular economy by promoting the reuse and repurposing of sports equipment. Instead of discarding old gear, organizations can establish equipment exchanges or donation programs, allowing others to benefit from them. This not only extends the lifespan of sporting goods but also reduces the need for new manufacturing. Moreover, community sports can encourage local businesses to embrace circular economy practices and help to organize less waste low events. By working together, sports organizations and local businesses can create a more sustainable local economy while also supporting community sports initiatives and more physically active community life. 
Stay tuned for the events and get in touch with us if you want to participate Curricular Innovation for Synergy between Community Sport and Activism (CISCA) project.