Posted on: 25th May 2018
The Raumteilerfestival is a matchmaking event to find the right cooperations for commercial spaces. It offers the possibility to present your business and your space offer. Furthermore a diverse group of experts will be there, whom you can consult about your business idea. Various workshops and lectures are included.

You can obtain exhibitor and visitor tickets now online. Please keep in mind, that the seats are limited. first come first serve.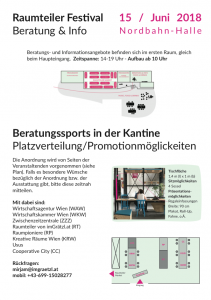 The festival team put together an interesting mix of experts and interests. They would love to hear your feedback. You can easyly contact them by filling in the form on their website. If you are interested in the services you may also register to the blog of "im.grätzl" free of charge. You will get updated information about what is happening in your neighbourhood in Vienna. If you have ideas or offers for collaboration, you may meet the team during the festival or contact them easily by phone or by email.