Posted on: 18th April 2021
Wonderland – platform for european architecture presents
a project space interview series.
In this episode of the project space interview series, Peter Kneidinger from Materialnomaden discusses their approach to upcycling and resuing materials in construction. Peter talks about how they pick the materials they use, utilize them, and find new ways of including them as part of a fashionable and sustainable design.
Materialnomaden are well known for their work in the field of circular architecture. Not only do they recycle materials and make it a part of their process, they also create new and unique designs and uses from said materials.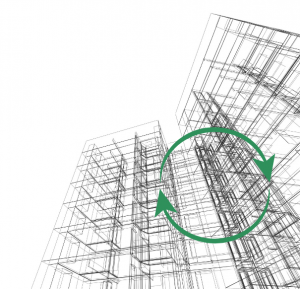 circular economy webinar
This webinar is a must watch for social entrepreneurs, designers, handcrafts people and everyone who wants to take action in the field of circular economy. It details selected best practices and projects and show in the interviews how the people in this field work and how to get started. Peter Kneidinger passes on his experience and outlines how beginners can get started in the field of circular economy. Circular economy principles are outlined and the pioneering work of Materialnomaden is presented.
Here is the video from our webinar!
Feel free to share and spread the word. We would love to see more entrepreneurs in this field. If you know of other initiatives, just let us know, so we can promote them as well.
about Materialnomaden
Materialnomaden offers expertise in architecture, urban planning, construction implementation and restoration, art and design as well as structural design and guided self-construction. With this work they are taking important development steps to advance circular processes in the construction industry. Peter explained to us the vision and process behind Materialnomaden and their innovative and inspiring concept. Also, we were finding out about the importance of circular design and how one can create new value by recycling, reusing and re-designing.
Make sure you view it in full, and let us know what you think!
Dont forget to subscribe to our facebook, instagram and twitter.
The project space interview series is produced by wonderland as an initiative of the CEED Programme. CEED – Circular Economy into Art through Eco-Design aims to promote circular economy principles in different areas. In this interview series we want to present smart practices and inspirational projects.
Circular Economy into Art through Eco-Design