Posted on: 1st May 2020
We were  pleased to share the call for papers for the "4th international conference of contemporary affairs in architecture and urbanism". Now the conference is approaching
ICCAUA 2021 conference will be held online at Alanya HEP University, Alanya, Turkey, on 20-21 May 2021
The main topics this year will be:
Architecture and Technology
Sustainability and Urban Design
Heritage and Cultural Landscapes
Habitat Studies/Infra Habitation
Civil Engineering

For urgent questions, please contact:
Conference Dates
 20- 21 May 2021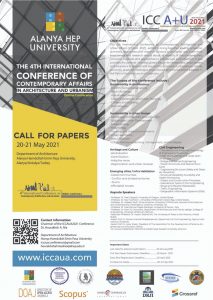 What to find in- 4th International Conference of Contemporary Affairs in Architecture and Urbanism:
The rapidly changing and developing world requires professionals of every field to stay up-to-dated to the latest knowledge, practices and technologies, not only in their own field but also in other relevant fields. Architecture is field that is connected to every aspect of life of a professional and a common individual. For professionals and experts it has become essential to gain and enhance their expertise to cater to the increasingly changing demands of the developing world. It has become crucial for architects, urban designers and urban planners to seize opportunities to grow in the field and expand their knowledge. Such is an opportunity organized by Alanya Hamdullah Emin Paşa University, the 4th International Conference of Contemporary Affairs in Architecture and Urbanism- ICCAUA2021. The conference is designed to create a dialog between all theories, practices and methodologies of contemporary architecture and urban planning. The conference aims to take a step in one of most important contemporary issues, bridging the gap between theories and practices in the built environment. Latest research findings, innovative approaches, and understanding of the built environment will be presented and discussed in this multi-disciplinary event.
High quality research papers will be published by the conference. Policymakers, researchers, scholars, professionals and interested in Urban Design, Architecture, Landscape Design, Built Heritage, Cultural Landscapes and Civil Engineering are encouraged to send in their researches and papers to be considered for the conference.
What is there to look forward to?
The conference includes reviewing research articles, cases, reports, papers and communication and dialog between participants, including comments to the writers/ editors of the papers in discussion. The themes include:
Architecture and Technology
Sustainability and Urban Design
Heritage and Cultural Landscapes
Habitat Studies / Infra Habitation
These themes will be explored through further specific themes like Environmental Sustainability, Climate and building, Architectural Planning and Design, Revitalization, Gentrification, Adaptive reuse.
It is not an event for professionals from the same field, but an opportunity for cross-disciplinary dialog and fruitful discussion and knowledge exchange between experts.
Apart from the promising structure and material, the conference has some auspicious key-note speakers from around the world with diverse areas of expertise and years of experience.
The ICCAUA2021 is particularly of interest for young, emerging professionals in the field of Architecture, Urban Planning, Heritage Management, Cultural Landscapes, Landscape Design and Civil Engineering because it is an opportunity to learn from experienced professionals and experts and exchange new and fresh ideas with a diverse group of people. Not only can it benefit by general understanding and knowledge about the emerging challenges in the said fields, but also can help focus field of interests of young professionals.
Don't miss this opportunity to enhance your cross-disciplinary knowledge and to share your fresh ideas in the field.
See you on 20-21 May 2021