Posted on: 29th June 2021
European Exchange ♦ Social Entrepreneurship ♦ Youth Empowerment ♦ Placemaking
Calling all young people with innovative and creative ideas who want to address social issues in urban areas. The Urban Civic Education LAB wants to encourage young people to put their ideas into action. In first training in Vienna we will learn more about and hopefully visit innovative practices. The second training in Berlin we will work on project ideas and how they can be implemented. Trainees are welcome to participate in both training sessions. If you want to create new spaces and add social value to local communities, you're the perfect fit for the UCE LAB!
The LAB will be an inspiring and helpful experience for you to learn about and try out tools for placemaking, social campaigning and social entrepreneurship. You will have the chance to participate in a training (1 week) in Vienna and get inspired to start your own project in the public space.
Deadline
• The Deadline for your application is 15th August 2021
• The training will be from 13th until 19th September 2021 in Vienna 5 Days + 2 Travel Days
• 6 Participants per Partner Country (departing from Italy, Germany and Austria). Age: 18- 30 years
UCE LAB Description
Urban Civic Education LAB is a 24-month strategic partnership involving 3 NGOs from Austria, Italy and Germany. The partners are experienced in working with young people aimed to promote social entrepreneurship of NEETs in order to foster transition to autonomy and employability/entrepreneurial engagement.
The aim of the UCE LAB and its training is to impart skills in the areas of social entrepreneurship that relate to social issues in urban areas. Young people get the chance to implement innovative ideas based on best practices and to create a social surplus for their local society.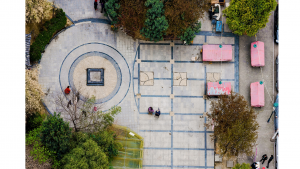 In the first training week you will gain knowledge and insight on how to put ideas into action and start your own project. The UCE LAB is created to inspire you and guide you on your journey to implementing your ideas.
The training is therefore a way to transfer knowledge to young people as support for the implementation of their plans for the design of public spaces.
Costs will be reimbursed
Project coordinator is wonderland – platform for European architecture. Wonderland will host the training activities for the partners and guide the participants throughout the week. The EU funds the accommodation costs, as well as travel costs. The Austrian participants are encouraged to host foreign participants ("Couchsurfing") and will receive a little pocket money for that.
The national partners, upon presenting all necessary tickets & invoices, will reimburse participants in the frame of the Erasmus+ guideline. Please contact your sending Organization for more information about reimbursement and accomodation.
For participants from Austria contact: [email protected]
For participants from Germany contact: [email protected]
For participants from Italy contact: [email protected]
Venue in Vienna
The events will take place in Vienna, while having on site explorations throughout the city.
How to participate
The application at Urban Civic Education LAB is made very easy for you. Just send us your CV and motivational Letter.
Upload your application documents here:
In case you have any questions feel free to contact us!
Contact Person:
Hannah Breit
[email protected]
Join the experience! Experiment with new methods! UCE LAB is open for registration now!